Today we took a field trip to a state park. It was a beautiful day, cool (but not too cool) and sunny. We took two hikes, a 2.2 mile and a .7 mile. Rachel complained several times but she walked almost the whole way.
We read the story The Raft before we left. The boys took their nature notebooks, and I told them they were going to draw nature just like the boy in the
story. When we got there Josiah informed me that he couldn't draw, he could just "scrubble." So I didn't make him, and allowed him to just enjoy nature. Caleb drew several things in his notebook though. Here he is drawing.

Here he's drawing a picture of a swan. Besides the swan some other wildlife we saw were a blue heron, a squirrel, a crane, a snake, a deer and numerous songbirds.
The woods were beautiful, some of the leaves were beginning to change colors and the path was littered with leaves of all colors. Here's my fellow hikers: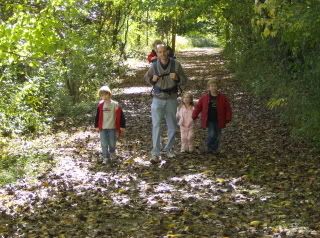 That's Josiah, Aaron with Jada on his back, Rachel and Caleb.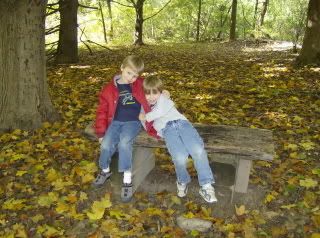 Finally a picture of Caleb and Josiah amidst the beautiful fall leaves.
All in all we had an invigorating day enjoying God's beautiful creation.