Today we took a field trip. We were supposed to go to a state park to see indian mounds, but the weather didn't cooperate. Instead, we went to the botanical conservatory.
Josiah peaks in the tree that talks. There were lots of hands on areas for the kids. Their favorite part was a tunnel that simulated an earthworms tunnel (complete with a slide to get out!).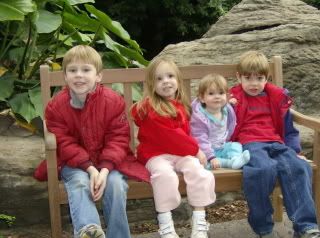 This is a picture of all four of them in the Rainforest room. A waterfall started right behind them and flowed down below.
Josiah studies Apples next week, and they had a special exhibit on apples and apple trees. Hopefully he'll remember some of it next week!! Although it was a short day, the kids had a fun and maybe learned a little too!!