Mondays are always a slow day for us, I think we all need time to recover from Sundays! Caleb had a lot of trouble today concentrating to do his dictation. He wrote some of his words double the size and ran several words together. He did great at math, though, and that's what he struggled with last week! It's so funny how things differ so much from week to week.
I started using Amy's SLPK schedule for Josiah today. It is organized in themes, and we started wisdom this week. I'm hoping this will make things a little more interesting.
We also read Time of Wonder. Caleb's notebook page shows the island before and after the hurricane.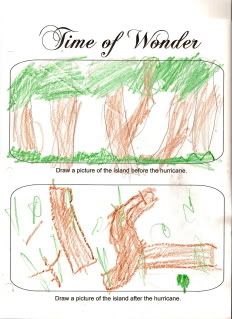 He made several of the trees bending in the top picture and then asked us why they were bent over. I asked him, "Why." He said when they were little trees they were next to big trees and they had to bend to reach the light. We haven't even studied that yet!!
Jada took her first steps yesterday (finally), but she hasn't taken any more today. We're hoping she starts walking soon (although that would mean her sister would have to leave her alone long enough for her to learn!).