The last week has flown by. Last Sunday was Rachel's third birthday. We had a party with my side of the family. She thinks she's a princess, and some days she even acts like one!! She is such a girly girl, and yet she also can keep up with the boys.....she's my bundle of energy!! Here's a picture of the birthday girl (with cousin Zeke and brother Josiah singing to her).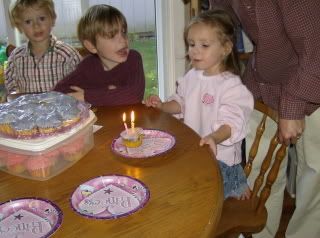 We've spent a lot of the week working at the church. We're in the final stages....we should get to have church services in our new building a week from Sunday. Aaron has moved his stuff into his new office.
Yesterday it snowed!!! The kids were so excited. It of course didn't stick, but for several minutes it snowed very hard.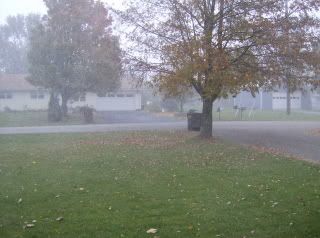 I've been spending most of my time this week changing our preschool curriculum around. I like most of the books in Sonlight's PK, but there are several that I've decided to leave out. I'm trying to add in new books and develop a theme that goes with the alphabet. Next week we plan on starting, so I'll have to see how things go.