Today the kids and I made a Thanksgiving tree. I had read the idea on one of my e-mail loops (can't remember which one!). We traced their hands, and cut them out. Then each of them wrote down things they were thankful for. Caleb made the trunk and all the little branches going out.
Caleb was thankful for: Mom and Dad, God, and the world
Josiah was thankful for: Dogs, fish, horses, and fire (yes, nothing that he has any emotional attachment to at all!!)

Rachel was thankful for: God, our house, and Nuna (her name for Grandma)
Here is some pictures of the finished product: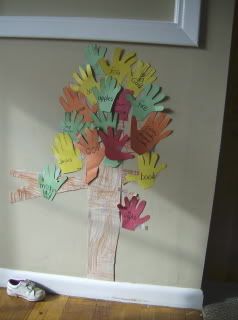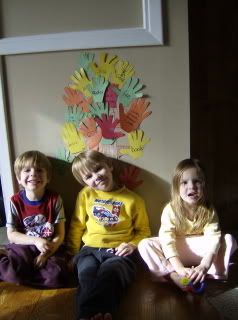 and the kids in front of it. (I tried to get a picture with Jada in it too, but she just wouldn't cooperate!).
Yesterday we had the dedication service for our new building at church. It was a wonderful service. Here's the location of a video clip on the local news.
www.wane.com
Under the featured videos, got to "new building, new beginning"
Posted: 3:51 PM, Nov. 20, 2006