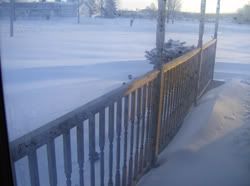 The view out our front door this morning. That's our driveway at the end of the porch, although you can't see it. (Sorry the picture is a little frosty. I wasn't brave enough to open the storm door, and it frosted up as soon as I opened the door!).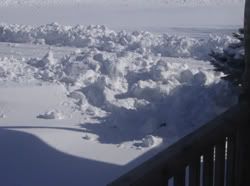 Here's the same view after an hour and a half of shoveling (with two people shoveling the whole time!). At least we finally have a driveway.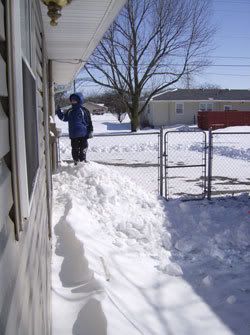 Caleb on top of a snow pile in the back of the house. That's the roof right above his head!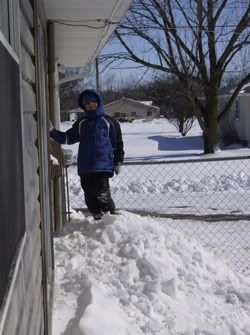 A little closer look at him. I went out to help Aaron shovel about halfway through (Caleb was helping before that). When I came inside afterwards my hair was frozen!! (I know, I know, I shouldn't have gone out with a wet head. But, Aaron wanted my help, what else was I supposed to do? I guess if I get pneumonia, you all will know why!!). They finally just plowed our road (at 1:30), so at least we can finally get out if we need to.

Oh, and happy Valentines Day!!! I'm off to make a chocolate chip cheesecake in honor of the day!! My sweet tooth is calling!! Here's the recipe, just in case your sweet tooth is calling too!! It is super yummy!

3 (8 oz.) pkg Cream Cheese, softened
3/4 cup sugar
3 eggs
1 tsp. vanilla extract
2 cups (12 oz. pkg.) miniature chocolate chips
1 exra-size pkg. graham Cracker crumb crust (9 oz.)
2 TB. Whipping Cream

1. Heat oven to 450
2. Beat Cream cheese and sugar in large bowl with mixer until well blended. Add eggs and vanilla; beat well. Stir in 1 2/3 cups small chocolate chips; pour into crust
3. Bake 10 minutes. Without opening oven door, reduce temperature to 250; continue baking 30 minutes or just until set. Remove from oven to wire rack. cool completely. Cover; refrigerate until thoroughly chilled.
4. Place remaining 1/3 cup chips and whipping cream in small microwave-safe bowl. Microwave at High for 20-30 seconds or just until chips are melted and mixture is smooth when stirred. Cool slightly; spread over top of cheesepie. Refrigerate 15 minutes or until topping is set. Cover; refrigerate leftover cheesepie.

I usually leave off the 4th step. It's rich enough without the extra chocolate. I also usually use a regular graham cracker crust (I've never been able to find and extra-serving size). I just put the extra in an oven proof bowl (well buttered) and bake it in that.

Posted: 1:43 PM, Feb. 14, 2007