Today is Josiah's 5th birthday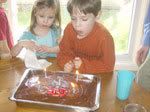 We went bowling today in honor of his birthday!! I can't believe he's 5 already. He's our tender-hearted, quiet guy. He's always looking out for other people and their needs. In the evening, if you're laying on the couch watching T.V., he'll go get you a pillow and blanket so you can be more comfortable. He's always doing little things like that. He also has a great sense of humor, and makes funny jokes all the time. Although, he doesn't talk much at all outside our house! But he gives us all a laugh! We are so thankful for Josiah and all the joy he's brought into the last 5 years.

Happy Birthday, Jo!!!