Harold and the Purple Crayon
Last week we read Harold and the Purple Crayon. Caleb then did a notebook page to go along with it. I wanted to post last week, but was having trouble getting my posts to work!! So here it is now: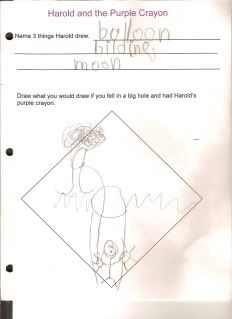 The bottom says, 'Draw what you would draw if you fell in a big hole and had Harold's purple crayon. Now, when I wrote this question I thought he would draw a ladder. But, instead, he drew a rope that he could lasso around a tree that was out of the hole.

Posted: 2:42 PM, Apr. 3, 2007