We decided to start school while the kids were excited. So, following an exhausting week of VBS, we had our first week of school. This year we are using Winterpromise Animal Worlds, along with GTG, Sonlight's LA and Horizon Math. The first day went really well. We started the day by going out to breakfast at McDonald's. Then we came back and hit the books!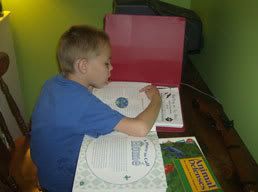 Caleb doing some of his independent reading. We decided the book he's reading here is still a little too hard for him to read on his own, so I'll be reading it as a read-aloud. The other books, though, he did really well with.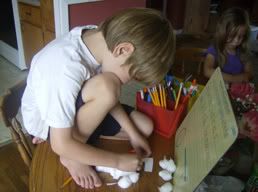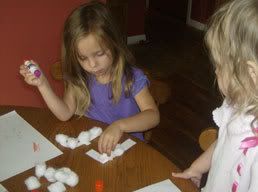 Josiah and Rachel work on their Alphabet craft. We arranged the letter crafts to match Sonlight's LAK order. This week they learned the letter F. The both did a great job writing the capital "F". Here, they are making Fluffy F's. Jada glued cotton balls to a piece of paper (she likes to feel like she's part of things!).

We only got one week in, and won't be doing any more school until the end of August. But, it was nice getting the first week under our belts. I think the kids are going to really enjoy the hands-on aspect of Winterpromise.