We hosted a community VBS that involved 3 other churches along with our own. I was the director this year. We used Group's Avalanche Ranch, and had a great time (at least the kids did). We had around 70 kids, raised over 1300 dollars for an orphanage in Africa and had several decisions for Christ.

Here's some pictures of each of the kids:


Caleb painting his bird house.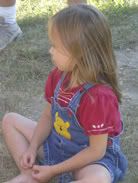 Rachel sitting in the grass. She did really well the first 3 nights. Night 4 and 5, though, she would not go with her group. After questioning her, she said she was scared of a teenage boy who was helping in her group. "He does bad funny things," she said. Of course, my mommy radar went up! Upon further questioning she said he took her nose off! He must have been doing the whole nose-thumb trick....and Rachel thought he was really taking her nose off!!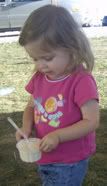 Jada enjoying snack time!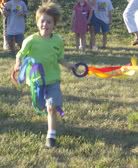 Josiah playing games. Jo also made a profession of faith this week, which we are very excited about!

It was a good week....but a long week!