Yesterday was our annual church picnic. We had a fun time of food and fellowship. The kids played lots of games, including a three-legged race with the adults! Here is a picture of Josiah racing with an older gentleman from our church. Jo is in green.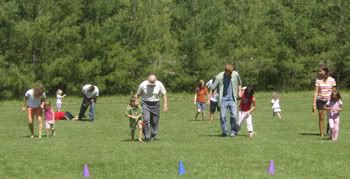 Lot's of fun!!

Caleb was busy catching spiders. You heard me right....spiders
. He caught one that had an egg sack still attached to it. He begged and begged to take it home so he could watch the eggs hatch. Now, a good homeschooling mom would have said, "sure, of course." I guess I'm not a good homeschooling mom! The thought of hundreds of baby spiders hatching out anywhere near my house makes me want to scream!!! I. Hate. Spiders. I promptly told him to dump it out and leave it in the church yard!!