We've been back from vacation for a little over a week. I've been having trouble with my photo editing program...this is the third time I've tried to post pictures...hopefully the third time's the charm!

We spent a week camping with my family (my parents, grandma, brother and his family, sister and her family) in Michigan near Lake Michigan. It was a relaxing week...a lot of time spent hanging around the campground. It was blueberry days at the campground, there were blueberry bushes interspersed throughout the campsites.

We snacked on delicious blueberries all week, and picked a bucket to take home with us. The kids made a little extra money picking....$2 for a bucket. Caleb picked one bucket!

We went to Deer Forest in Coloma, MI one day. The kids were able to feed deer and other farm animals from their hands. There were also many rides for them to ride.


a close up of one of the deer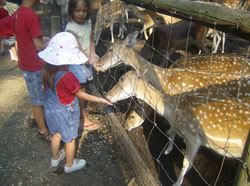 The girls feeding the deer.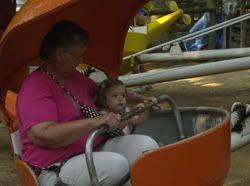 My Grandma riding on the helicopter ride with Jada! Go Grandma!!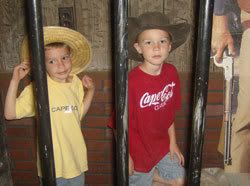 The boys in jail (thats a cardboard cutout of John Wayne next to them
).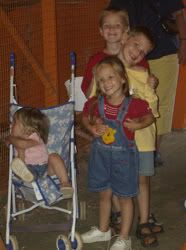 The kids inside of Peter Pumpkin-eater's shell.


Almost all the cousins on the slide (baby Titus was missing).

We also visit the beach and dunes on Lake Michigan.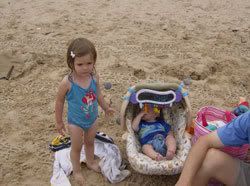 Jada and Cousin Titus.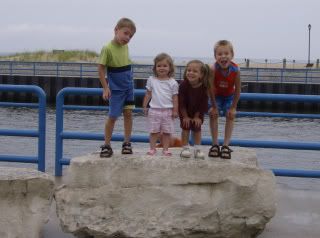 The kids pose on a rock. (Aaron is peaking behind...he's the spotter!).

And finally...a family picture on the beach.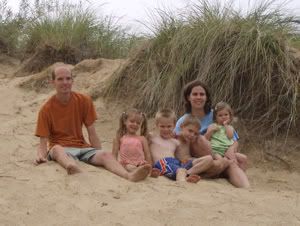 We had fun, but it's nice to be home! Our tiny house feels so big after living in a pop-up camper for a week!