This is Birthday Season at our house! Aaron celebrated his 29th birthday on the last day of August. We spent his birthday at his sister's new house in Illinois.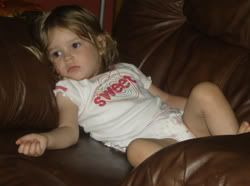 Jada's birthday was September 9th. She is now two!! I no longer have a baby...she is growing so fast. She is working hard on potty training right now (she has more misses than hits!) . She is our funny girl...she is always trying to make others laugh...and laughing herself. She is so silly! She's a very happy girl, and is definitely a delight to be around! She's also talking up a storm now. Happy Birthday baby girl!

My birthday is the following day on the 10th. This year I hit the big 3-0. My secret sister at church gave me a wonderful surprise for my birthday....a gift certificate to Debrand Chocolates. MMMM. I was able to buy 10 pieces of chocolate, and enjoyed each and every piece. Delicious. (I have one piece left....I'm saving it for a day when I really need some chocolate!).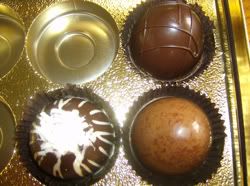 We have a whole month off until Rachel's birthday....So 4 of the 6 birthdays at our house are within a little over a month!