I made my first trip to the ocean as a 22 year old mother of one. I immediately fell in love. The ocean is a feast for all the senses; the feel of sand squishing between your toes, the smell of the sea, the sound of the waves crashing against the shore, the taste of the salty sea air, and of course the beautiful view that has no end. Since then, I've made three more trips to ocean, collecting seashells each time. When we redid our half bath, I decided it was a perfect place to display my shells...and be like having a little bit of the beach right here at home.

Here is my collection of seashells displayed in a bowl (a leftover decoration from my wedding), with several more on the shelf. The starfish is my husbands from when he was a child.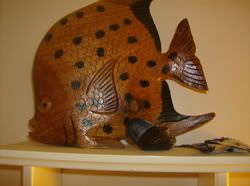 Some more shells (they are hard to sea) and a fish my sister brought me back from Jamaica.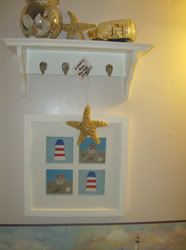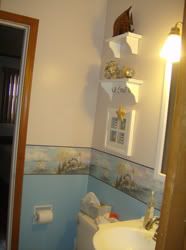 My daily reminder of God's amazing handiwork. And I can't wait to visit the seaside again. (And, thankfully, I don't have to wait long....next week we're spending 5 days at Myrtle Beach with my IL's).

Visit Friday's Show and Tell for yourself!