Rachel dubbed herself the princess as soon as she could talk. She loves all things beautiful, and all eyes on her. When Jada came along, Rachel made it pretty clear that she thought one princess was all this house needed. As time has gone by, though, she's taken her little sister under her wing...and began teaching the importance of being a princess.

Jada is soooo different than Rachel. She's quieter and sweet, and is always going for a laugh. I've never met a girl quite as silly as Jada...we call her our goof ball. But, I'm beginning to see the princess in her as well.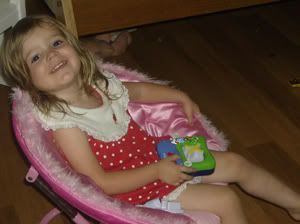 Here she is in her new pink fluffy chair. Let me tell you...she loves this chair. She'll come up missing, and I'll search the house for her. I'll find her in her pink fluffy chair. Just relaxing and grinning ear to ear.

I guess deep down inside, we all have a little bit of princess in us. Although I am not much of a girly girl, I still love pretty things...and I love being considered beautiful myself. So, I guess there is room for more than one princess at this house, after all. And...if I am the mother of two princesses, I guess that makes me the queen!