Wednesday, January 2, 2008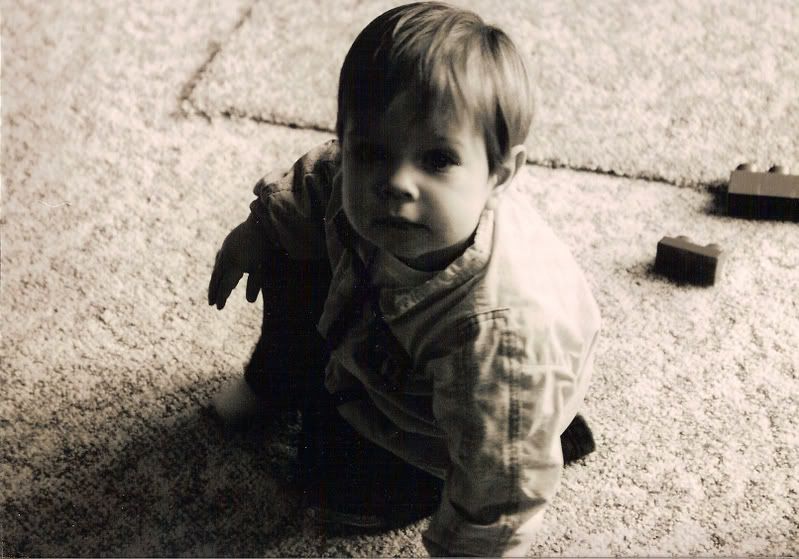 Posted by

Mominin
at 10:20 AM
3 comments:

I hope you had a safe and wonderful holiday season...filled with Christ's love and focused on Him. Now as the new year begins it is a time for resolutions. I've never really made resolutions before...but this year I decided to give it a try.

My first resolution is to instill a new habit in my life every month. They say if you do something for 28 days straight, it becomes a habit. We'll see. January's habit is to be in God's Word every single day. I've set up reminders with my Google calendar, and also am journaling about the passage I read on a private online journal. I am hoping this will help get my habit in place. (I know...it is one I should already have in place. But since the kids it is an area I really struggle in). I'll try to update my new habit each month, and let you know if my current habit is sticking. Join me in forming your own habits this year.

My second resolution is to lose the rest of my weight. I lost about 15 pounds last year, but I still have 25-30 pounds to go. To help me with this resolution, I've joined a website called sparkpeople.com
They track your food, exercise, and other fitness goals for you, and also help set your weight loss goals. I've heard that it is similar to Weight Watchers, but I don't know anything about Weight watchers so I don't know if that is accurate or not. They have me losing 33 lbs by August. Hopefully it will work. Oh, the best thing about it is that it is FREE!

If you have any New Year's Resolutions I would love to hear about them!
Posted by

Mominin
at 8:36 AM
No comments:

Tuesday, January 1, 2008
Here is the list of books I read - 2007

The Brethern Beverly Lewis
Scrapbooking your Spiritual Journey Sandra L. Joseph
*I dared to call Him Father Bilquis Sheikh
*Northanger Abby Jane Austen
*Little Women Louisa May Alcott
*Harry Potter and the Sorcerer's Stone J.K. Rowling
A Place of Quiet Rest Nancy Leigh DeMoss
Not all Tarts Are Apple Pip Granger
*The Lost Letters of Pergamum Bruce W. Longenecker
An Innocent, a Broad Ann Leary
The Tale of Despereaux Kate DiCamillo
Crow Lake Mary Lawson
At Home in Mitford Jan Karon
When the Heart Cries Cindy Woodsmall
Gathering Blue Lois Lowry
*O Pioneers Willa Cather
Seperate Beds LaVyrle Spencer
*Harry Potter and the Chamber of Secrets J.K. Rowling
*Harry Potter and the Prisoner of AzkabanJ.K. Rowling
The Eyre Affair Jasper Fforde
Grand Canyon a different view Tom Vail
The Nanny Diaries Nicola Kraus & Emma Mclaughlin
*Harry Potter and the Goblet of Fire J.K. Rowling
*Harry Potter and the Order of the PhoenixJ.K. Rowling
*Harry Potter and the Half Blood Prince J.K. Rowling
A Light in the Window Jan Karon
Murder on the Orient Express Agatha Christie
The Yada Yada Prayer Group Neta Jackson
These High Green Hills Jan Karon
Among the Hidden Margaret Peterson Haddix
A Midwife's Story Penny Armstrong
The Beduins' Gazelle Frances Temple
Theodora's Diary Penny Culliford
A Charlotte Mason Education Catherine Levison
The No.1 Ladies' Detective Agency Alexander McCall Smith
Shiloh Phyllis Reynolds Naylor
Princess Academy Shannon Hale
Bridge to Terabithia Katherine Paterson
The Handmaid's Tale Margaret Atwood
Snow Flower and the Secret Fan Lisa See
Jackaroo Cynthia Voigt
Fifty Acres and a Poodle Jeanne Marie Laskas
Lady Susan Jane Austen
*Night Elie Wiesel
*Harry Potter and the Deathly Hollows J.K. Rowling
In Search of Eden Linda Nichols
Clutter's last stand Don Aslett
We Remember Jeanne Marie Laskas
Theodora's Wedding Penny Culliford
After the Leaves Fall Nicole Baart
When the Morning Comes Cindy Woodsmall
*Sheet Music Kevin Leman
Love and Respect Dr. Emmerson Eggerichs
*The Five Love Languages Gary Chapman

54 books.
* Denotes one I rated a 5/5.
DNF - A Tale of Two Cities (hopefully I'll come back to it again someday in the future), and Lost in a Good Book by Jasper Fforde (after spending a month trying to get through it I just gave up.)
Posted by

Mominin
at 3:08 PM
2 comments:

May the year 2008 be a year of great books and amazing photo opportunities!
Posted by

Mominin
at 3:07 PM
No comments: